Made of high quality aluminum alloy, lightweight, strong, and durable, mini size, without screw lock

The spring loaded gate metal biner ensures quick link and locking. Caribeaner color sent randomly

This carabiners can be easily attached to pocket, snap clips, hooks, carrier, chains

Perfect for carrying keys, water bottles, camping gear, lanterns, lights, keychains, key ring, rope, climbing utility, hunting accessories, etc.

Aluminum-ring karabiner are widely used for many purposes, ideal for kayaking, camping ,tenting, backpacking, hunting, and other outdoor activities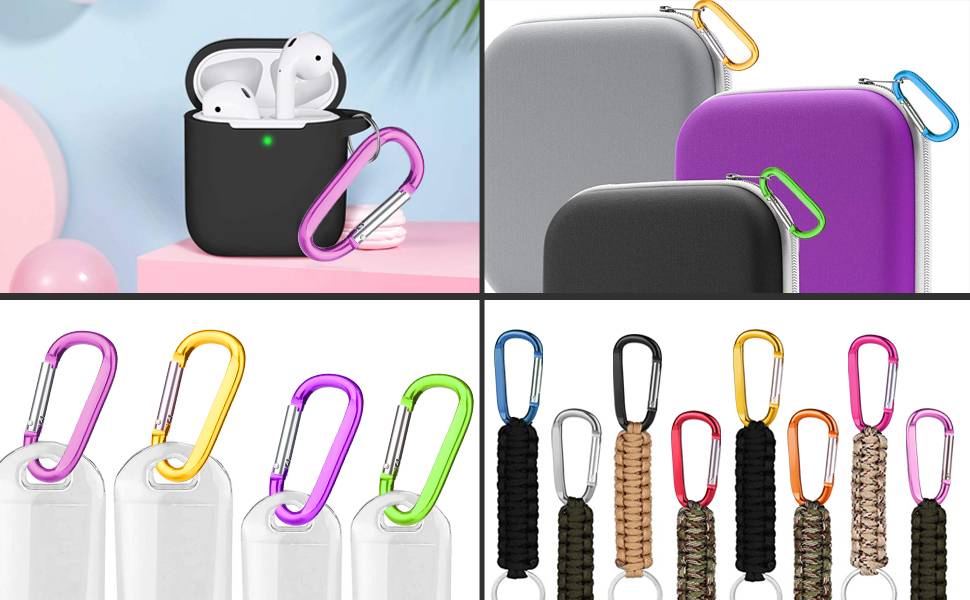 Carabiner Hooks are often used for camping, hiking, exploring, and fishing. It can be used to store a sleeping bag, a water bottle, a walking pole, a key chain, or a camping tent. Travel gear can be hung securely on the carabiner.
High Quality: Authentic and high-quality, these locking carabiner hooks come in a brand-new condition. Their strength and elegance make them easy to handle while their lightweight allows everyone to maneuver with ease. Neither the color of these will fade nor will they rust. The safe working load for these is normally 5kn.
Effective Use: Simple to use, these versatile carabiners feature a spring-loaded gate that fits securely and quickly to a variety of fixing points. Smooth opening and closing are possible with these. You can easily snap hook your keys on the carabiner using the stainless wire keychain.
Multipurpose: Designed to perform a variety of tasks, these small carabiner clips are a versatile tool. In numerous rope-intensive activities, such as climbing, caving, sailing, hot air ballooning, rope rescue, construction, industrial rope work, window cleaning, acrobatics, hammocks, high-ropes courses, and gyms, they are used.
Shape & Dimension: As asymmetrical clips, these D carabiners transfer most of the weight onto the spine, a point of strength for the carabiner. The dimensions of these are 38*22*4 mm, so 334.45 cm.