Locking carabiner, personal protective equipment against fall from height.
Made of heavy duty 7075 aluminium material, lighter than all other material carabiners.
D-shaped carabiner is proved to hold the maximum strength than other shapes at the same size.
Thanks to their outstanding screw lock mechanism design, our carabiners will never lose your valuables!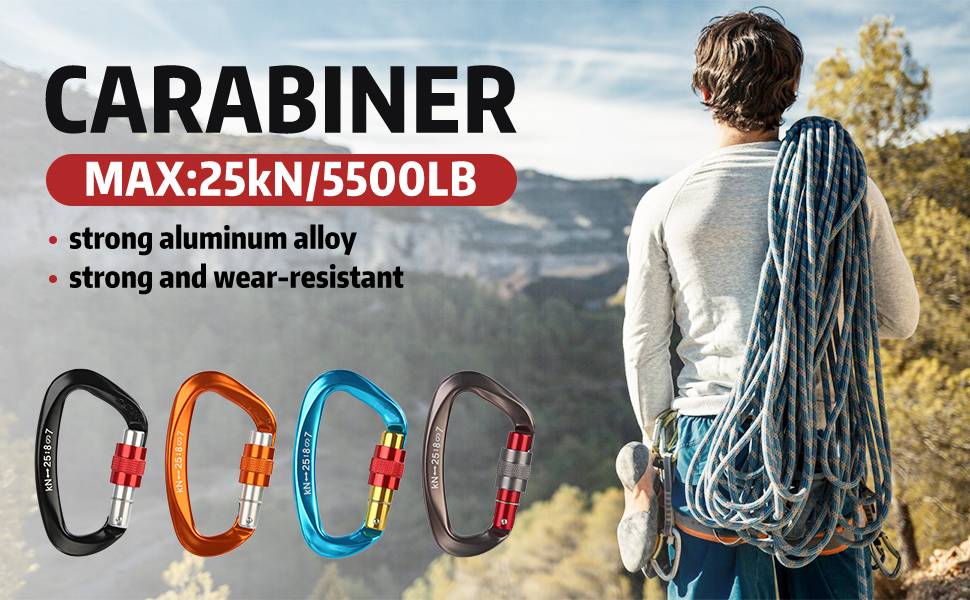 The D-ring design Locking Carabiner is capable of keeping maximum strength under the same size. This design allows you to hang more items with a carabiner. It is wider and can accommodate larger ropes.
LIGHTWEIGHT & HEAVY DUTY: The aircraft aluminum alloy material is used in Screwgate Carabiner, which is extremely durable and lightweight. It is durable and practical, not easily loosed, does not break easily, is very well made, does not fade, does not rust, and is easy to carry around. Each carabiner can hold a maximum of 2697 pounds of force. These Carabiners are super lightweight and rustproof. They are rated at 12 KN.
AMAZING MULTI-FUNCTION: Often used for securing hammocks, dogs, leash and harness, heavy bags, fishing, outdoor hiking, camping, rappelling, rescuing, and for home use. Your staff will be safe with the screw lock carabiner. In addition, the carabiner clip can be used as a key chain clip. You can use it to attach sports bottles, backpacks, ropes of camping tents, trekking poles, small EDC tools, etc.
EASY TO LOCK: You can connect easily. Connected seat belts and protective tools are always positioned well on the long axis and are able to carry impact forces up to 2500 pounds. Locking Carabiner is portable and easy to use, especially for women and younger people, because you can hold it firmly with one hand. It opens with a rotating twist lock that takes less hand strength. A lock gate tool that prevents the carabiner from automatically unlocking or allowing, in any event, any item to slip off the carabiner is now more secure.
BUILD TO LAST A LIFETIME: We use premium aircraft aluminum alloy material for our carabiner clips, which are wear-resistant, anti-slip, frost-resistant, non-toxic, strong, and durable.
HANDY & COMPACT: You barely feel it when keeping it in your hand because the screw gate carabiner's so lightweight. Handy and Easy to carry thanks to its compact design.